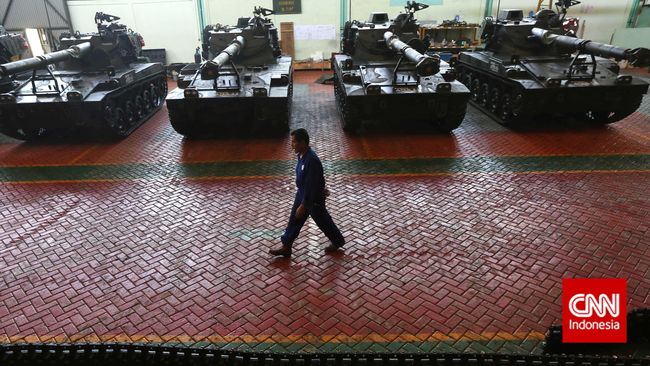 Kerja sama antara Indonesia dengan luar negeri di bidang pertahanan terus berkembang. Selain ditanda tanganinya MoU antara PT Dirgantara Indonesia dengan Honeywell, Indonesia kembali meneken MoU Government to Government dengan Turki.
Indonesia diwakili oleh Pindad sedangkan Turki oleh FNSS. MoU ini terkait pembuatan dan pengembangan medium tank di Indonesia. MoU ini ditandatangani oleh Ses Ditjen Potensi Pertahanan Kementerian Pertahanan Brigjen TNI Santoso dengan Head of International Cooperation Departement of SSM Ministry of Defence Turkey Abdullah Erol Aidin.
"Penandatanganan MoU dengan Turki ini dalam konteks pembuatan dan pengembangan medium tank. Kemudian tadi juga sudah melaporkan dari masing-masing negara," ujar Dirjen Pothan Kemhan Timbul Siahaan di JIExpo, Jakarta, Jumat (7/11).
Tak hanya itu, kerjasama pun telah dimulai dengan PT LEN utnuk pengembangan alat komunikasi perbatasan untuk menjaga seluruh wilayah perbatasan NKRI. Lebih lanjut, kata Timbul, pada dasarnya MoU ini adalah pengembangan dari basic design yang telah dimiliki oleh Pindad.
Oleh sebab itu, langkah selanjutnya yang mereka ambil adalah melakukan kerja sama seperti ToT yang mampu mendorong kemandirian dari Pindad untuk dapat memenuhi kebutuhan Indonesia. Bentuk kerja sama ini pun akan dilakukan selama tiga tahun kedepan yang diawali dengan dua prototype medium tank. Medium tank ini akan disesuaikan dengan kondisi lapangan di Indonesia seperti yang mampu berada di rawa dan laut. Beratnya sendiri sekitar 20-40 ton, dan di lengkapi dengan canon berkaliber 90-105 mm.
"Spesifikasinya sendiri kami belum bisa menjelaskan lebih lanjut, yang pasti kami akan bentuk seperti apa yang TNI inginkan," ujar Nail Kurt, CEO FNSS.(pit)