Quote: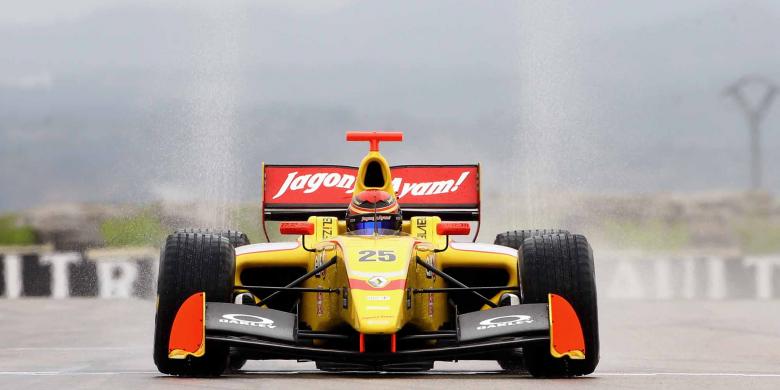 Aksi Sean Gelael di lintasan basah pada race kedua Formula Renault 3.5 yang berlangsung di sirkuit Motorland Aragon, Spanyol
ARAGON, KOMPAS.com – Laga perdana Kejuaraan Formula Renault 3.5 di sirkuit Motorland, Aragon, Spanyol, akhir pekan lalu, berjalan cukup ketat. Pebalap Indoneisa Sean Gelael akhirnya mampu mengatasi ketatnya persaingan itu hingga mencapai finish di posisi ke 16 pada race kedua.
Pada race pertama, Sean, yang tergabung dalam Tim Jagonya Ayam with Carlin, ditabrak oleh pesaingnya di tikungan pertama. Dalam kondisi lintasan basah terguyur hujan, di race kedua itu Sean mengalami kerusakan pada kendaraannya di lap pertama. Karena ada peraturan melakukan pit stop untuk mengganti ban di race kedua, Tim Jagonya Ayam with Carlin segera memutuskan untuk melakukan pit stop, termasuk untuk mengganti hidung dan sayap depan kendaraan.
Sean kembali ke lintasan di posisi 18, dan tertinggal dari pesaingnya. Tetapi, di beberapa putaran terakhir, pebalap muda berusia 18 tahun itu berhasil menyusul dan bertempur sengit menyaingi lima pebalap lainnya untuk memperebutkan posisi 14. Di lap terakhir, ia berhasil naik dua posisi, yaitu ke urutan 16.
"Seharusnya hasilnya bisa lebih baik," kata Sean.
"Saya tidak bisa mengikuti satu hari testing karena harus ujian di kampus. Menurut saya itu sangat merugikan karena kehilangan kesempatan mencoba kendaraan dengan setting-an low downforce seperti yang digunakan saat race hari Sabtu kemarin," tambahnya.
sumber
http://olahraga.kompas.com/read/2015...it.Capai.Finis