Quote: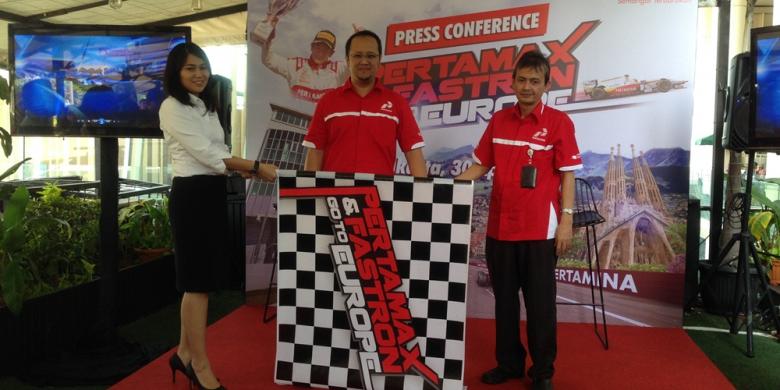 Para petinggi Pertamina siap meresmikan prgram Pertamax & Fastron Go to Europe 2015 dalam konferensi pers di Senayan City, Jakarta, Rabu (30/4/2015).
JAKARTA, KOMPAS.com - Pebalap muda Indonesia, Rio Haryanto, mengawali persaingan GP2 Series tahun ini dengan menjadi runner-up dan juara pada dua race seri pertama di Bahrain, 18-19 April lalu. Rio akan turun pada seri kedua di Spanyol, 9-10 Mei.
Pertamina selaku sponsor utama Rio dalam mengarungi ketatnya persaingan di GP2, membuka kesempatan bagi masayarakat Indonesia untuk memberikan dukungan langsung kepada Rio saat menjalani seri kedelapan di Sirkuit Monza, Italia, awal September.
Pertamina menggelar program Pertamax & Fastron Go to Europe yang bisa diikuti setiap masyarakat Indonesia. Pertamina menyediakan beberapa hadiah untuk program ini. Hadiah utamanya adalah 10 paket wisata ke Eropa sekaligus menyaksikan langsung balapan Rio di Sirkuit Monza.
"Kami ingin prestasi Rio bisa diketahui lebih banyak warga Indonesia, terutama anak-anak muda. Rio merupakan inspirasi karena memang tidak sembarang orang bisa ikut balap GP2 atau Formula 1," kata Wianda Pusponegoro, Vice President Corporate Communication Pertamina.
Hadiah lain yang disediakan Pertamina berupa 21 emas batangan, 24 Samsung Galaxy Note 4, sembilan iPhone 6, 24 voucher BBK senilai @1.000.000, dan 60 oli Fastron @4 liter.
Program Pertamax & Fastron Go to Europe ini berlangsung mulai 1 Mei hingga 5 Agustus 2015. Hadiah akan diundi dalam tiga periode, yaitu pada 17 Juni, 8 Juli, dan 12 Agustus.
"Periodenya lumayan panjang, tiga bulan. Ini memberi kesempatan lebih besar kepada masyarakat yang ingin berpartisipasi," lanjut Wianda.
Program ini bisa diikuti semua pelanggan produk Pertamina dengan mengumpulkan struk pembelian Pertamax/Pertamax Puls/Pertamina Dex minimal Rp 200.000 untuk mobil dan Rp 20.000 untuk motor. Keterangan lebih lanjut bisa dilihat di
sumber
http://olahraga.kompas.com/read/2015...lapan.di.Monza