---- source:
http://www.hobbymiliter.com/4200/uu-...ke-pengadilan/
-------
Hobbymiliter.com
– UU Justice Against Sponsor of Terrorism Act (JASTA) atau yang dijuluki dengan The 9/11 Bill resmi sah setelah veto Obama dibalikkan oleh Kongres AS. Seorang janda perwira menengah US Navy yang tewas dalam serangan 11 September di Amerika Serikat pun resmi menjadi pelapor pertama yang menuntut Arab Saudi ke pengadilan.
Tuntutan yang didaftarkan di pengadilan Washington DC tersebut dilayangkan atas nama Stephanie Ross DeSimone. Ia menuduh bahwa "Sepanjang materi waktu, Arab Saudi melalui pejabat, petugas, agen, dan pegawainya, selalu memberi dukungan dan sumber daya kepada Osama bin Laden ("bin Laden") dan Al Qaeda."
Pada 11 September 2001, suami DeSimone, Komandan (setara Letkol) US Navy Patrick Dunn sedang bekerja di kantornya di Pentagon saat pesawat American Airlines dengan kode penerbangan 77 menabrak gedung markas militer AS tersebut. Jasadnya baru diketemukan tiga hari kemudian.
Tuntutan tersebut dilayangkan pada 30 September kemarin dan
dapat diakses secara daring
. Isinya tertulis, "Kemampuan Al Qaeda untuk melakukan serangan teroris berskala besar adalah berkat dukungan langsung yang mereka terima dari para sponsor dan pendukung materinya. Salah satunya adalah Kerajaan Arab Saudi (KSA)."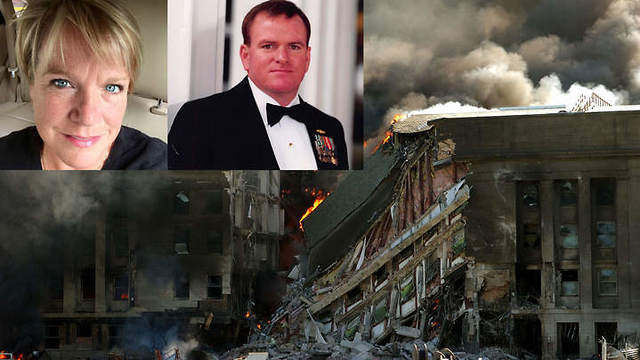 Stephanie DeSimone dan suaminya, Komandan AL Patrick Dunn. Gambar latar menunjukkan kondisi Pentagon pasca serangan 11 September. Sumber: NewswireDeSimone melanjutkan kalimatnya dengan menuduh Arab Saudi sebagai pendukung Al Qaeda sejak satu dekade silam. Ia pribadi mengaku sangat sadar mengenai modus operandi Al Qaeda yang bergantung dari dukungan Saudi untuk mengeksekusi serangan ke Amerika Serikat.
Tuntutan DeSimone tercatat sebagai kejadian kali pertama dimana seorang warga AS dapat menuntut suatu negara. Namun seorang pengacara wakil keluarga korban teror 11 September asal New York, James Kreindler, mengatakan bahwa biro hukumnya berencana menaikkan tuntutan ke tingkat pengadilan federal pada Senin, 3 Oktober.