Nova 2in1 hair beauty, Catok Rambut Nova Lurus Dan Keriting rambut
(alat Catok Rambut)
Alat pelurus rambut dan membuat rambuk kriting,

Nova 2in1 hair beauty alat catok Rambut
1 UNIT @ 130 RB
10 UNIT @ 100 RB x10
50 Unit @90 RB
BELANJA 10 UNIT KEATAS HARGA BISA NEGO
Nova 2in1 hair beauty , alat catok ini
berfungsi tidak hanya meluruskan rambut akan tetapi juga dapat membuat rambut kriting maupun curly tanpa harus ke salon .


fitur alat ini antara lain :
Quote:
1.technology hair color saver , melindungi warna rambut dengan sempurna meskipun sering melakukan steaming
2. proses pemanasan cepat karna mengunakan media ceramic
3.2 in 1 multi fungsi bisa meluruskan dan mengkriting rambut
4. awet dan tahan lama.

Spesifikasi:
- Catok 2 in 1 pelurus rambut+keriting
- Bahan 100 % keramik pink, ada temperatur control digital 1-5 level setting 120-200 C, AC 220-240 V, 50/60 Hz, power 45 Watt, kabel bisa diputar 360 derajat, ada petunjuk penggunaan manual, pemakaian tinggal pilih tekan tombol samping kanan untuk keriting, sedang kan kiri untuk pelurus.

Deskrpsi:
Quote:
- 2 in 1 Styling Iron
- PTC Heater
- Ceramic Heating Plates And Barrel
- Emits Infrared Heat For Gentle Styling
- On/Off switch Power indicator light
- Finger rests
- Powered By A Anti Shock 100% Shockproof Filament
Get Beautiful Curls In Your Home Only
- Stainless Steel For A Great Finish
- Quick heat-up
- Igniter switch
- Push on/off switch
- Built-in counter rest
- Colored 'ready' lens at end of cool tip indicates gas is on
- Includes 1 standard sized ThermaCell butane cartridge
- Automatic shut-off
- Worldwide dual voltage
- Tangle-free swivel cord
- Separate On/Off switch with "On" Indicator light
- Rate power: 45W
- Package 1 x 2 in 1 Professional Hair Straightener Curling Iron
Tentang Nova
Nova 2-in-1 Hair Beauty Set,2 fungsi dalam 1 alat catok, bisa diatur untuk keriting / lurus
Quote:
Cepat panas dan efisien banget, plat terbuat dari aluminium pilihan yg dilapisi nano ceramic dengan diameter plat 2,5cm dan panjang 34cm dengantombol on off dan bisa setel suhu 5 level temperatur panas (120-200 derajat C) dan putaran kabel bisa berputar 360 derajat, memakai 45watt dgn berat 0,5kg. Catokan 2 in 1 ini catokan dan keritingan dalam 1
alat,ada tombol untuk pilih catok atau keriting. Sangat praktis dibawa-bawa dan dipakai.
suhu dapat diatur sehingga tidak membuat rambut rusak atau kering dan ada tombol on/off nya
Untuk info & Pemesanan Silakan Hubungi
==========================
081 6908 248 | 081297822248
BBM 26544201 | 27A5A5B8
==========================
Ingat Hanya Di nomor Tersebut Bukan Nmr lain. SMS akan kita respon secepatnya
mulai dari jam 10 pagi – 5 sore Minggu tutup (Slow Respon)
Tranfer via BCA,MANDIRI,BRI & BNI
Kami bisa kirim via kurir untuk area jakarta minimum belanja 1jt
Fast respon senin-sabtu jam 09.00-17.00 kantor buka senin-jumat jam 11.00 -16.00, sabtu jam 11.00 - 14.00 ( COD BISA LANGSUNG KEKANTOR UNTUK PEMBELANJAAN DIATAS 1 JUTA,dibawah itu hanya kirim expedisi) karena dikantor khusus belanja grosiran.
TRANSFER sebelum jam 11 pagi
barang dikirim dihari yang sama, kalau lewat masuk pengiriman esoknya.resi barang bisa minta jam 7-8 mlm atau jam 10 pagi esoknya selalu kami kirim via sms.
Kelebihan Berbelanja Bersama Kami:
[+] Pelayanan ramah dan cepat
[+] Customer Oriented
[+] Harga Terjangkau
[+] Barang selalu dicek terlebih dahulu sebelum dikirim
[+] Packing double sehingga barang pesanan anda aman
[+] Resi JNE selalu kami berikan 1 hari setelah pemesanan
[+] Transferan dan tidak ada tipu menipu karena kami juga ada toko offline di jakarta
[+] Untuk Pembelian diatas 1 Juta Bisa datang langsung ke kantor kami di Jak-Pus
[+] Menerima Reseller atau Dropshiper.
Question and Order Please Call Us

==========================
081 6908 248 | 081297822248
BBM 26544201 | 27A5A5B8
==========================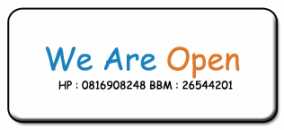 Klik Aja di
www.bisagrosir.com