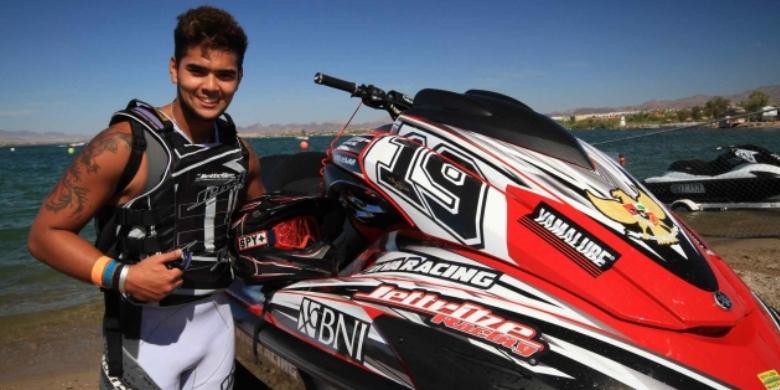 JAKARTA, Kompas.com - Juara dunia jet ski Aero Aswar dinobatkan sebagai salah satu atlet nasional yang menjadi Duta Asian Games 2018 di Indonesia dengan salah satu tugasnya mempromosikan pelaksanaan pesta olahraga empat tahunan itu.
"Atas dasar prestasi yang diraih, kami menetapkan Aero Aswar sebagai salah satu Duta Asian Games 2018," kata Ketua Komite Olimpiade Indonesia (KOI) Rita Subowo setelah bertemu dengan juara dunia jet ski itu di Kantor KOI Senayan, Jakarta, Jumat.
Setelah ditunjuk sebagai duta, kata Rita, pihaknya meminta kepada Aero Aswar yang baru saja dinobatkan sebagai Racer of the Year 2014 untuk kategori Runabout itu untuk melaksanakan tugasnya demi kesuksesan pelaksanaan Asian Games 2018.
"Sebagai duta, Aero juga harus menjaga kedisiplinan. Apalagi pada tahun ini juga harus berjuang untuk mempertahankan predikat juara dunia," katanya.
Rita Subowo mengatakan, KOI mengapresiasi prestasi yang torehkan oleh Aero Aswar. Apalagi, selama ini komunikasi dengan atlet yang telah mengharumkan nama bangsa termasuk pada Asian Beach Games (ABG) Pattaya, Thailand ini berjalan dengan lancar.
"Kita harus bangga dengan prestasi mereka. Apalagi dia diikuti oleh adiknya (Aqso Aswar) yang juga sudah menorehkan prestasi," katanya.
Sementara itu Aero Aswar mengaku sangat bangga dinobatkan sebagai salah satu Duta Asian Games 2018. Meski jadwal akan bertambah berat, pihaknya mengaku telah siap untuk mengemban tugas yang diberikan oleh KOI.
"Ini untuk Indonesia. Jadi saya harus bisa menempatkan diri termasuk menyiapkan waktu khusus untuk melaksanakan tugas. Sekarangkan mudah, bisa lewat media sosial," katanya usai menerima mandat.
Kakak dari Aqso Aswar itu menjelaskan, selama 2015 pihaknya yang didukung penuh oleh BNI 46 dan pabrikan Yamaha ini akan menjalani ketatnya persaingan di Amerika Serikat. Pertandingan perdana tahun ini akan dimulai di Arizona.
Aero bertekad kembali mendominasi jalannya perlombaan seperti 2014. Apalagi tahun lalu mampu meraih 23 gelar dari 16 kejuaraan yang diikuti. Predikat juara dunia akhirnya mampu diraih.
sumber
http://olahraga.kompas.com/read/2015...ian.Games.2018